I know it may seem out of place for my design/photo blog to feature a post about backpacking in Peru. While random, I wanted to put this helpful information out in the interweb since when Chantal and I were researching this trek, we couldn't find a lot of resources to use. Lots of blogs were either out of date, didn't answer all of our questions, or weren't completed by females. As our due diligence, here is a step-by-step guide for those fearless females (or any human really), looking to take on the Salkantay Trek completely unguided and completely by foot in 2 full days with the 3rd day hiking up the steps to Machu Picchu.
WHAT YOU NEED:
Tent with rain cover
Sleeping bag (mattress optional)
Food (optional for entire trek but very least bring snacks)
Rain jacket and poncho
1L water bottle
Gloves
Beanie
Good trekking shoes (preferably waterproof)
Plastic bags for all your things
Rain cover for backpack
Toilet paper
Camera
Sunscreen
Bug spray (optional)
Face towel
Soap
Medicine for elevation/headaches
First aid supplies
Toothbrush
Layers for cold
Loose clothes for heat
Soles $
And lots & lots of motivation!

Pro tip: these are the basic essentials. We urge you to pack AS LITTLE AS POSSIBLE since your shoulders and back will ache from the weight. Every kilo counts especially at mile 29!
OUR TREK:
Day 1: Cusco 4AM -- Soraypampa trail head 8:45AM -- Chaullay (10 soles to camp, no reservation req) 4:00PM
Day 2: Chaullay 5:55AM -- Llaqtapata 10AM -- Hidroelectrica 3:00PM -- Puente Ruinas campsite (1-2 km before Aguas Calientes. 15 soles, no reservation req) 5:35PM
Day 3: 5:00 AM start to get our tired/exhausted asses up to Machu Picchu -- Machu Picchu 7:35AM
DAY BEFORE PREP
Bought Machu Picchu entrance ticket and a train ticket from Aguas Calientes (Machu Picchu) to Ollantaytambo. You can get the Machu Picchu ticket the day before you plan to go but you'll most likely be too exhausted to do so. It also motivates you to stay on schedule. You can purchase the train ticket at Aguas Calientes but tickets do sell out.
Rented 2 person tent, 2 sleeping bags, and a pair of gloves each from speedy Gonzalez in Cusco in Plaza de Armas for 140 soles total. We opted not to get sleeping mats because it was just one more thing to carry.
Went to the San Pedro market and stocked up on food. We opted not to bring any cooking supplies so we picked up fruits, veggies, and nuts. We also each had a granola bar from the states. Pro tip: Your fruit will get squished if you don't protect it in your bag. Also, we forgot silver wear or plates which would have been helpful.
Arranged a taxi through our hostel to pick us up at 4AM and take us to Avenida Arcopata where there are collectives and taxis heading to Mollepata.
DAY 1
4AM: When we arrived to Arcopata, we asked if we could get a direct ride to the Soraypampa trail. We knew it would cost more but it would get us there faster. The taxi originally told us 100 soles each but when we got to Mollepata, the taxi couldn't take us further and handed us off to a guy in a truck and only charged us 90 soles each for the entire trip there. We got to Soraypampa at 8:45am and immediately started the trek. When you arrive in Soraypampa, you feel like you're dropped off in the most beautiful middle of nowhere. There are cow farms, snow capped mountain and a raging river. Just a head's up: there's no "marked" trailhead and to be honest, the trail isn't very well marked overall. There were multiple times we had to ask if we were heading in the right direction.
With the river at your right, follow it through some rolling hills that will eventually start turning into a steeper rocky path. If you are heading towards Salkantay Mountain, you are going the right way. The first few hours are all uphill with extreme elevation gain. You are also starting at a high elevation so be prepared to be walking slower and struggling right off the bat. There are a few blue signs that work as check points along the trek. They will become your best friend because when you see those—they absolutely lift your spirits. You'll pass 2 blue signs before reaching the summit which is: Abra Salkantay. It's very rocky and when we were there it was a cold deserted wasteland. The rest of your day will be either flat or downhill! If you're following the river you know you're going the right way. Pro tip: the path tends to have a lot of forks in it. It's just different short cuts that have been created over the years. The path always come back together. There's a campsite that guided tours use before Chaullay. It's called Caserio Wayramachay. From there it took us less than 3 hours to make it to Chaullay. It's not a typical campsite since there's a hostel there. They offer food, water, and even hot showers for a price. We just got water and they had us pitch our tent in a covered area that acts like a dining room for hostel guests. There were 3 other tents pitched in that room but were all from guided treks. We were lucky to be under a cover since it poured all night. Luckily in the morning the rain stopped!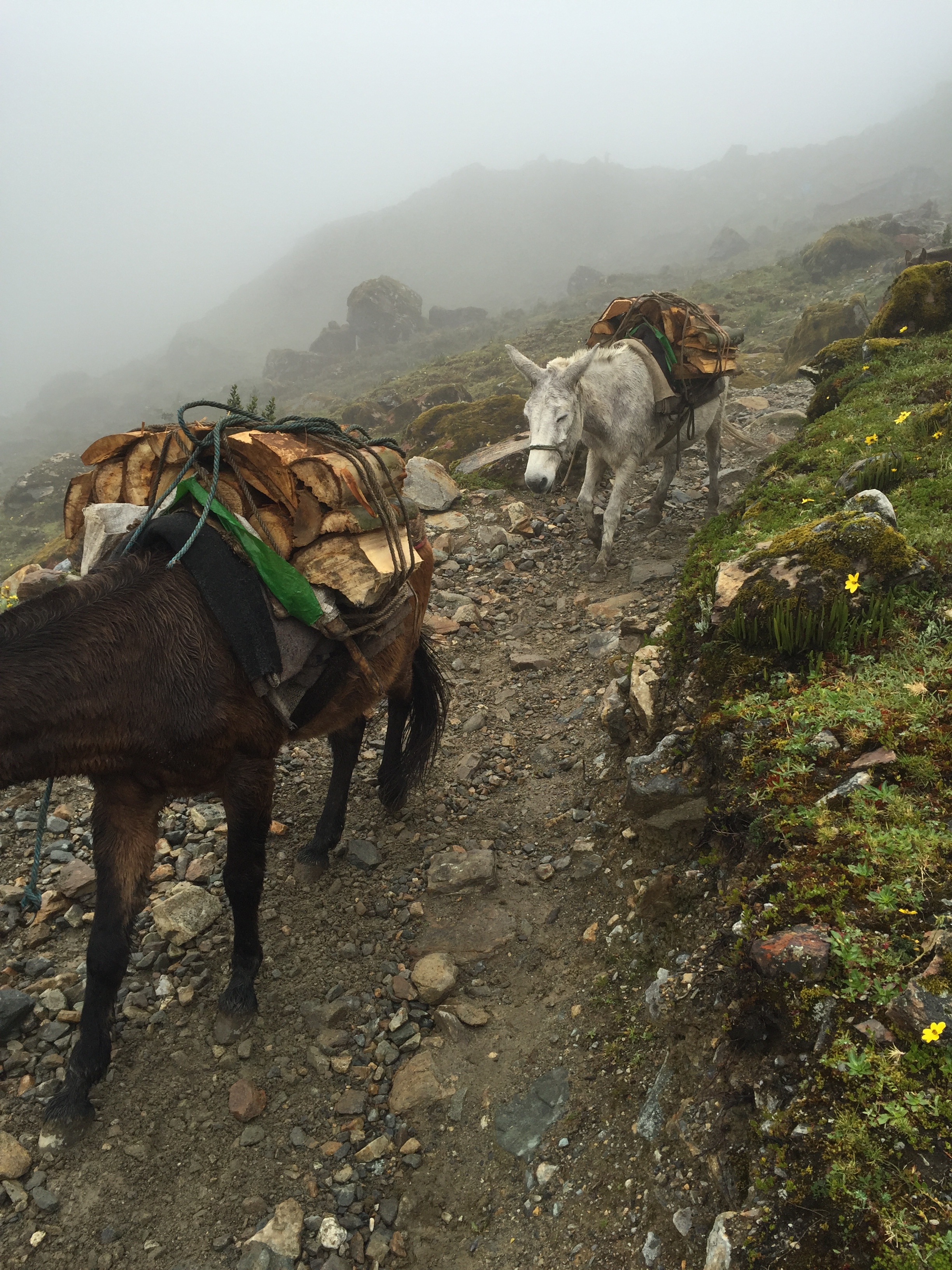 DAY 2
Leave no later than 6am since you'll need all the daylight there is and just prepare yourself for a 12 hour day(!). From Chaullay, you'll be walking downhill/flat for about 3 hours to La Playa. There's a point in the beginning of the day where the road forks and one path leads uphill. Choose the path that goes downhill. Much to our surprise, there are quite a few tour groups that get bused to the next location (cheaters). You should reach La Playa no later than 9:30am. The town seems like it's mostly across the river so it's a bit underwhelming when you walk through it. Pass through the town and in about a half hour you'll see a sign for Llaqtapata on your right and a grassy path with a few market stands/hostels.
At this point, you can either choose to continue on the road towards Santa Teresa or take the "road less traveled" to Llaqtapata. Since we didn't go to Santa Teresa we can't offer much insight on that route. We chose to go through Llaqtapata because we heard it was a a beautiful path with outstanding views. Be aware that in order to hike up Llaqtapata, the weather needs to be decent. The downhill portion is extremely muddy, slippery, and rocky. If you add fresh rain to that, it will make it very difficult to get down. Lucky for us it was very sunny outside so taking the Llaqtapata route was an obvious choice. The sign says that the Llaqtapata portion is 11.9 km., which means you are doing about 3.5 miles uphill and it could take about 2 hours. The hike is not as steep as the first day however, with the sun and elevation, it becomes very difficult. You know you've reached the summit (yay!) when you see a sign for a lodge that has the "best views of Machu Picchu". The sign says it takes 20 minutes to reach the lodge but you'll already start to trek downhill. You'll pass through a ruins and it may get confusing as to which way to go so follow the sign for the camping site which is on the left side of the ruins. From there, it should take about 5 minutes until you reach the lodge, which is where we got water and enjoyed "the best view of Machu Picchu." It's actually incredible to see that ruin from a completely lateral perspective. It was also crazy to know that the next day we would be there. From here, continue going downhill for about 2 hours on a very slippery, muddy path. Eventually, you'll start seeing more little market vendors and the raging river will start get louder and louder.
By 2PM we were mostly through the Llaqtapata but we still had to pass through Hidroelectrica to Aguas Calientes. Once you leave the mountain, you cross a suspended bridge and are hiking at the same level of the river. The next part that tripped us up was finding our way to Hidroelectrica. You'll eventually trek to a bit of a three-way fork in the road. One path will lead you to another bridge that has buildings in the side of the mountain. Another path that is straight ahead will lead you nowhere. The third path heads to the left and looks as though it goes through an underpass through the mountain. The path on the left is the one you want. Continue that way until you reach a small building that will ask for your passport and signature. Since this is one of the main transportation ways to Machu Picchu, they record all visitors. From here you aren't very far from Hidroelectrica–maybe 15 minutes. This town is pretty busy with lots of shops but it's more used as a train station stop to get to Aguas Calientes. Since we were determined to get there by foot, we opted to not take the train and walk the tracks instead. You will see quite a few signs that say that walking the tracks is prohibited. While walking ON the tracks is illegal, there are paths along the tracks that are okay to trek on. When we were trekking along the tracks, we saw over 50 people walking along as well (I want to note that they were mostly passing us since they did not start from Chaullay that day like we did). Starting at the train tracks, make sure you follow the tracks to the right where they turn up. There's a small incline but eventually it flattens out. This was probably our least favorite and most arduous part of the hike. We knew how close we were but we'd been hiking for about 10 hours and this portion takes about another 1.5/2 hours (depending on how tired you are). The path is very rocky and there are points where you have to walk on the tracks. This sign below has become our most hated sign in the history of signs because after almost 12 hours of hiking, the sign said we still had 4km to go. Unreal.
The camp site is actually closer to Machu Picchu than Aguas Calientes so instead of it being 4 more kilometers, is was only about 2. Thank god! We arrived at our campsite at 5:30pm, right before it started getting dark. This campsite is a bit more organized since it's so close to Machu Picchu and frequently used. They designated a spot for our tent and it was 15 soles to camp there. They had a bathroom with showers that you could pay for but since we didn't even have towels, it was pointless to even think about personal hygiene.
Unfortunately for us, it rained the entire night into the morning. Our rain guard was helpful but I'm sure we put it on wrong and a bit of moisture leaked into our tent.

DAY 3: MACHU PICCHU
4:30AM: Machu Picchu opens up at 7AM and we were told it takes about an hour to get up the stairs to the entrance. We were advised to leave our campsite around 5AM to start the trek. Putting away our rain soaked tent in the pitch black morning was no fun task but we noticed that a lot of the tents that surrounded us the night before were already gone. To get to Machu Picchu, you head __________ where you'll see a few buses and groups of people. There will also be an attendant there checking passports and Machu Picchu tickets. Once you have that taken care of, cross the bridge and you'll see a sign for Machu Picchu. Unfortunately the sign for us was in the dark.
At this point–BRACE YOURSELF–because you are about to ascend the 3000 (no not a typo) steps. While the elevation gain isn't as much as Day 1, I thought this was the hardest part of the entire trek. I think the combination of knowing that this was the last part of the journey and the fact that I had trekked over 30 miles in the last two days made it probably the least enjoyable part. I was also layered up for a cold damp morning but the humidity was out of control making my poncho like a greenhouse. After an hour and a half of constant chants of "one more step, one more step," Chantal and I made it to the entrance of Machu Picchu.
Was it hard? Fuck yeah. Was it worth it? Absolutely. We hope we gave you the tools you need to go out and be badass on your own. Questions? Just shoot me an email.